Updated to 8.7.0 on
Mac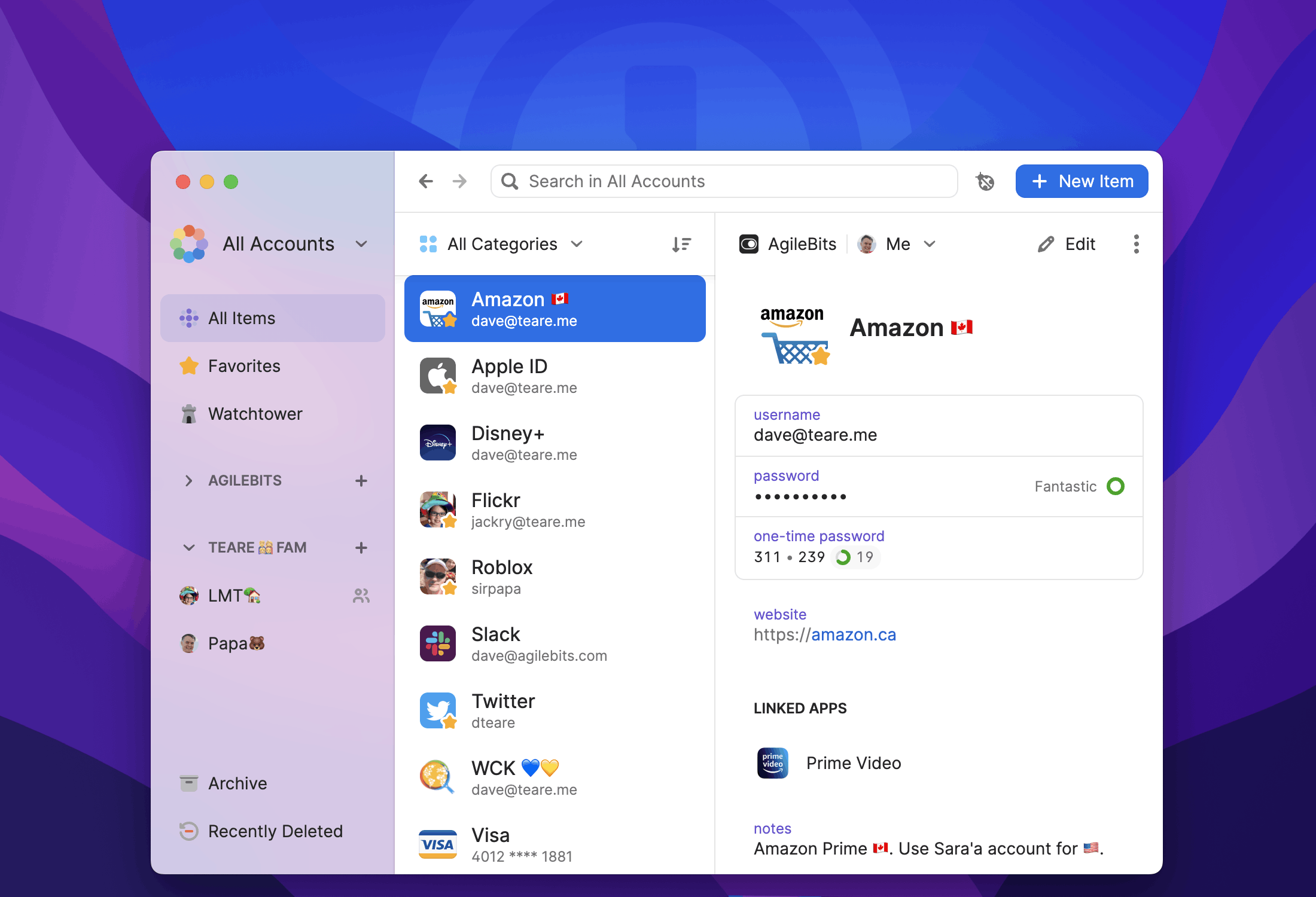 Download 1Password for Mac
Today I have the honour of introducing the most powerful and capable 1Password ever. Wrapped in a gorgeous new design and blazingly fast, 1Password 8 is our love letter to Mac users everywhere. 💌
Mac is where it all began. Way back in 2006, Roustem and I coded the first version of 1Password on our shiny new PowerBook G4s. The love and support we received from the Mac community was tremendous and launched us to where we are today. 🥰
17 years later the pressure was on to create the best Mac app possible and I'm thrilled to say that the team delivered. 1Password 8 integrates deeper and tighter with macOS than ever to bring you the most modern, productive, and secure version of 1Password yet. 🙌
Modern, sleek design
We created an entirely new design language, code-named Knox, to unleash the power and productivity we've been dreaming of – all while preserving the heart and soul of 1Password. 😍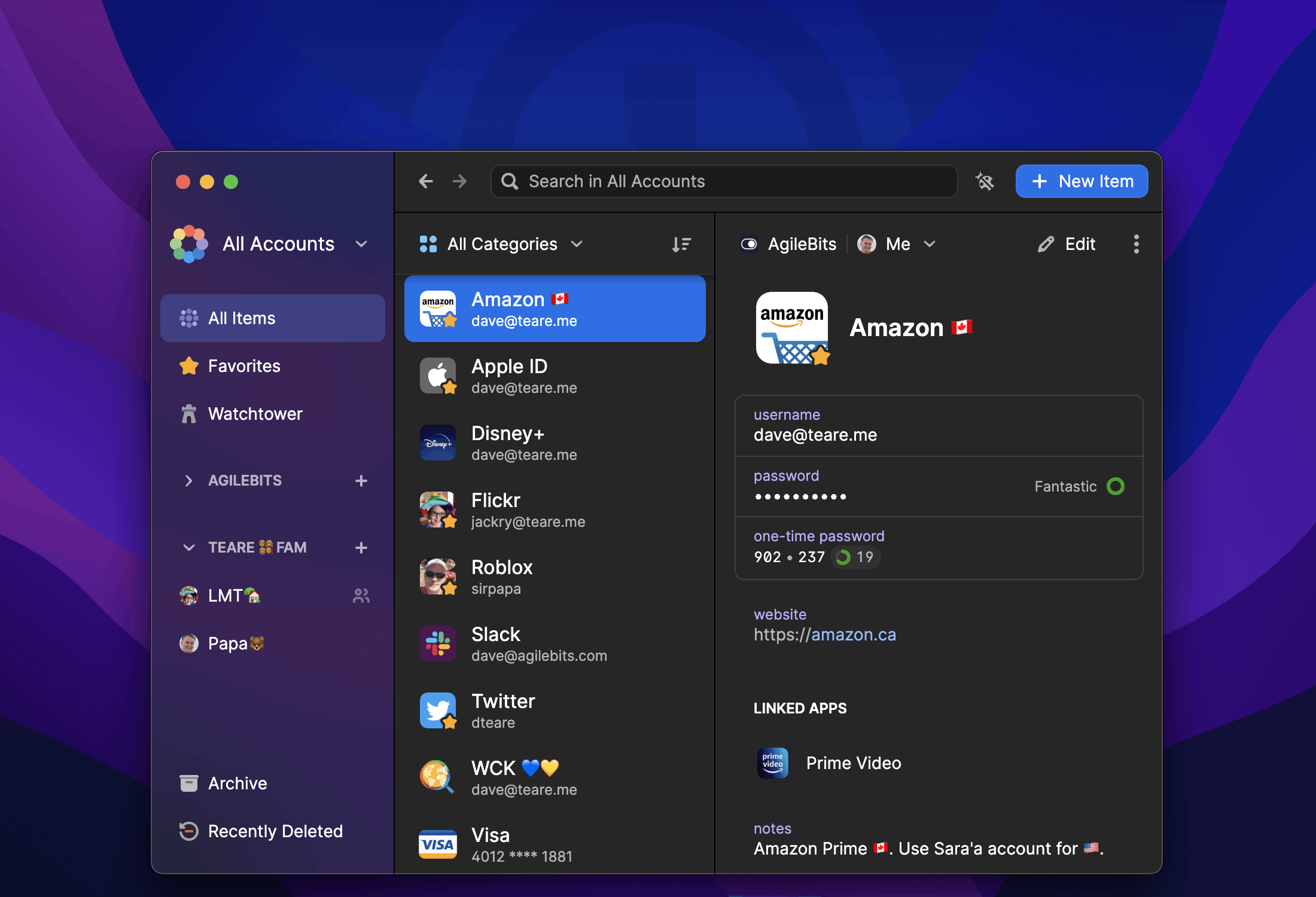 I absolutely adore our new design language. From the vibrant sidebar and unified toolbar to the typography and iconography, everything has been redesigned and recreated to feel right at home on macOS.
With 1Password 8, you can enjoy a fluid, consistent experience everywhere. The new design language extends seamlessly into 1Password for Safari.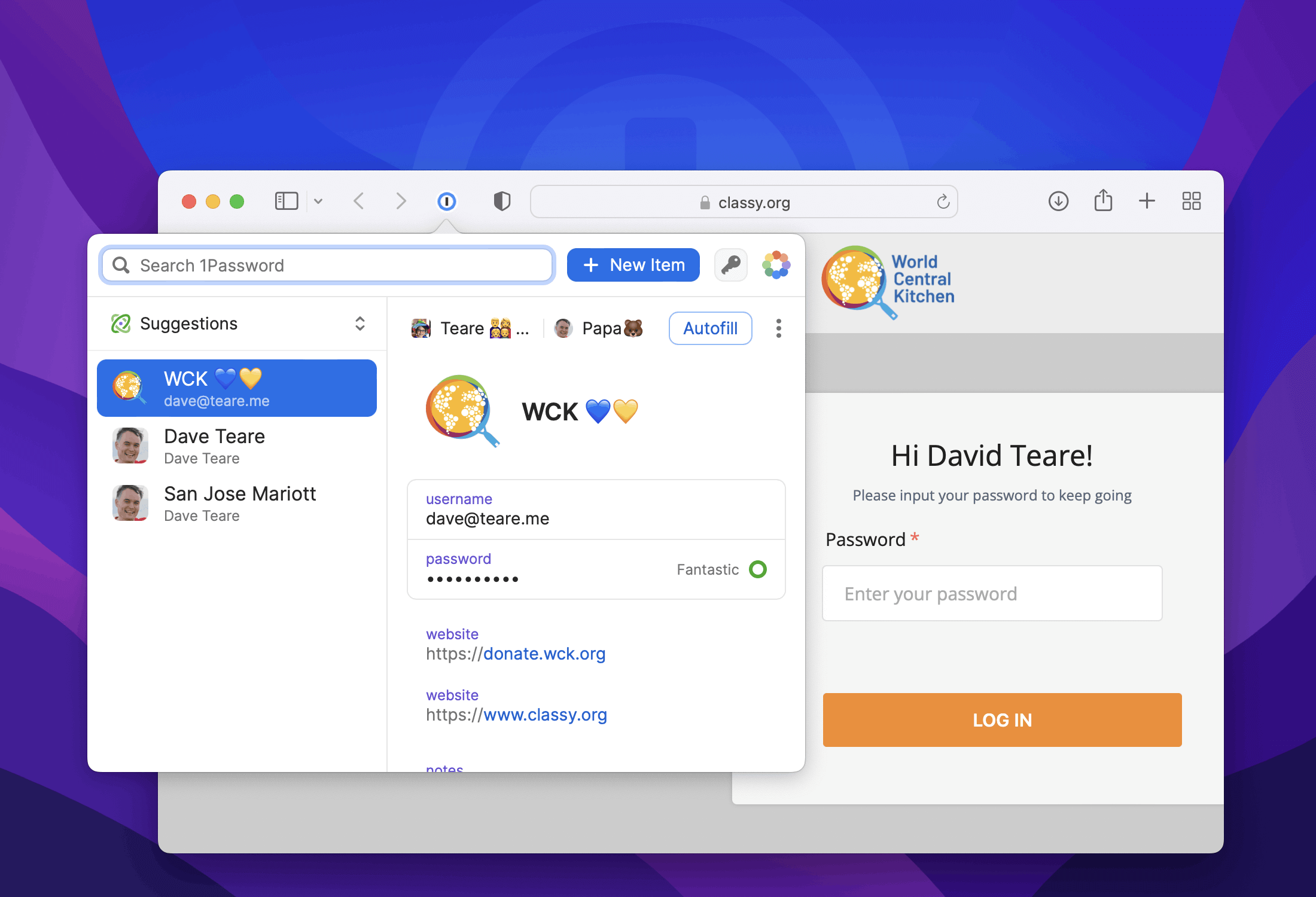 It's simply beautiful! But as Steve so eloquently said, design is not what it looks like. Design is how it works. The real delight comes from the new features that this design unleashes. 🚀
Next step productivity
I often hear that we're in the security business, but I've always seen our super power as being productivity. We make the secure way, the easy way.
1Password 8 takes productivity to the next level with improved workflows and deeper integrations with macOS. It all starts with Quick Access.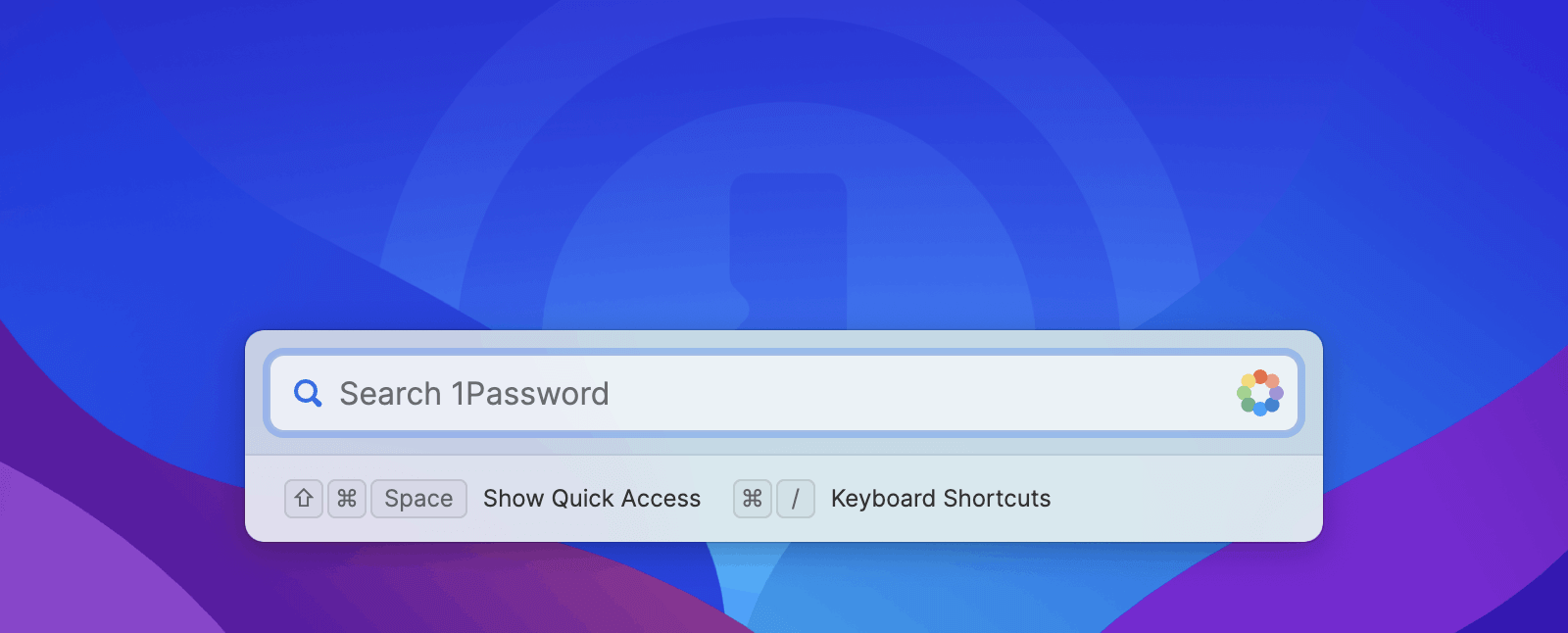 Inspired by tools like Spotlight and Alfred, Quick Access is a floating panel that is always available, giving you access to all of your 1Password data, wherever you need it. Quick Access is fully keyboard-optimized, and it's smart, too, suggesting the most relevant logins for the active application.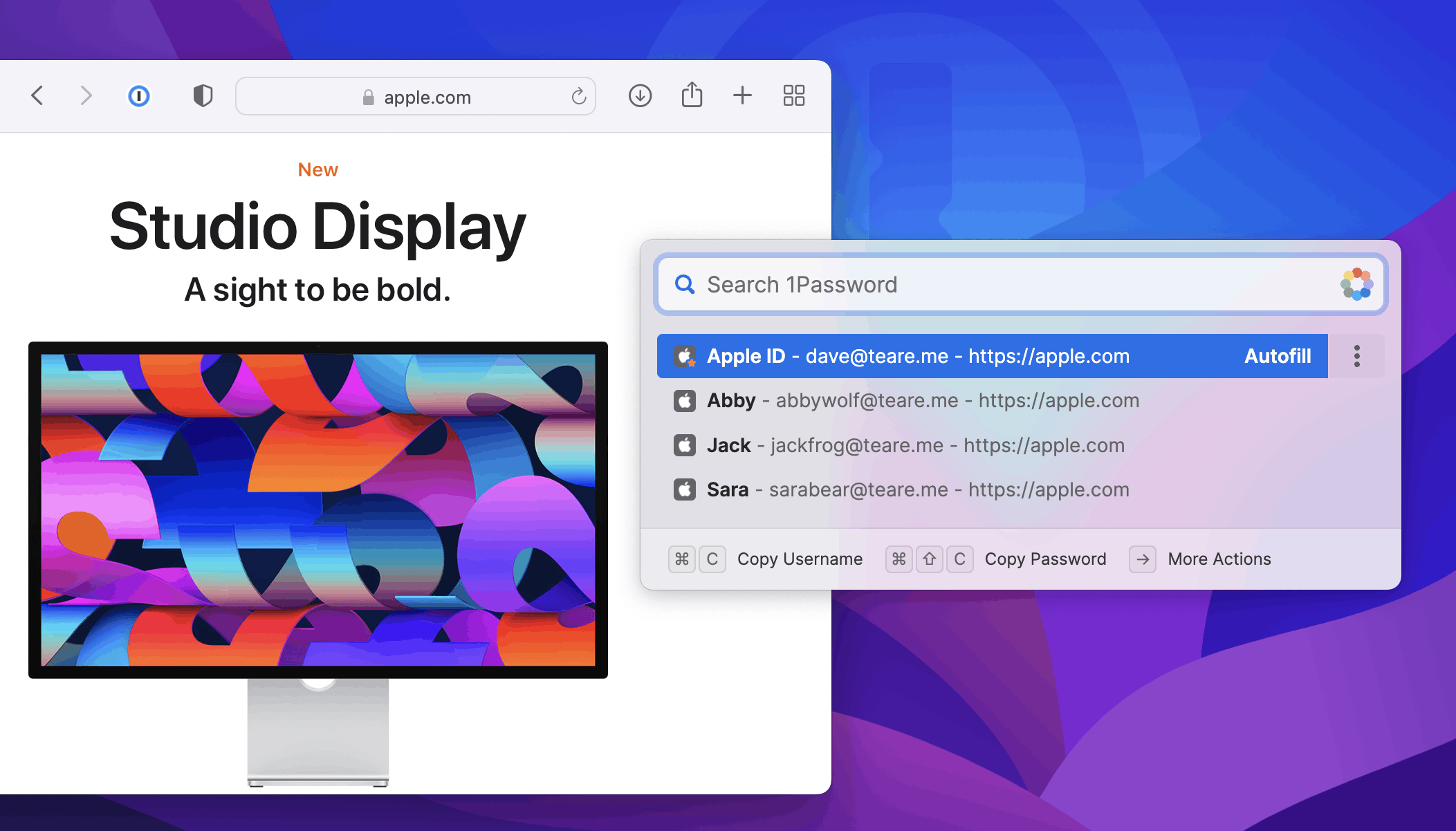 Quick Access is just one of the ways 1Password 8 will supercharge your productivity. And it's fast. It's hard to be productive when waiting for things to load, so we tuned every workflow to be super efficient. From unlock to search to filling, everything is quick and snappy.
Next step security & privacy
1Password 8 comes with the security and privacy guarantees you've come to expect from 1Password, along with new tools to keep you safer online. The new Watchtower Dashboard makes it super simple to get a pulse on your security and see where you need to improve.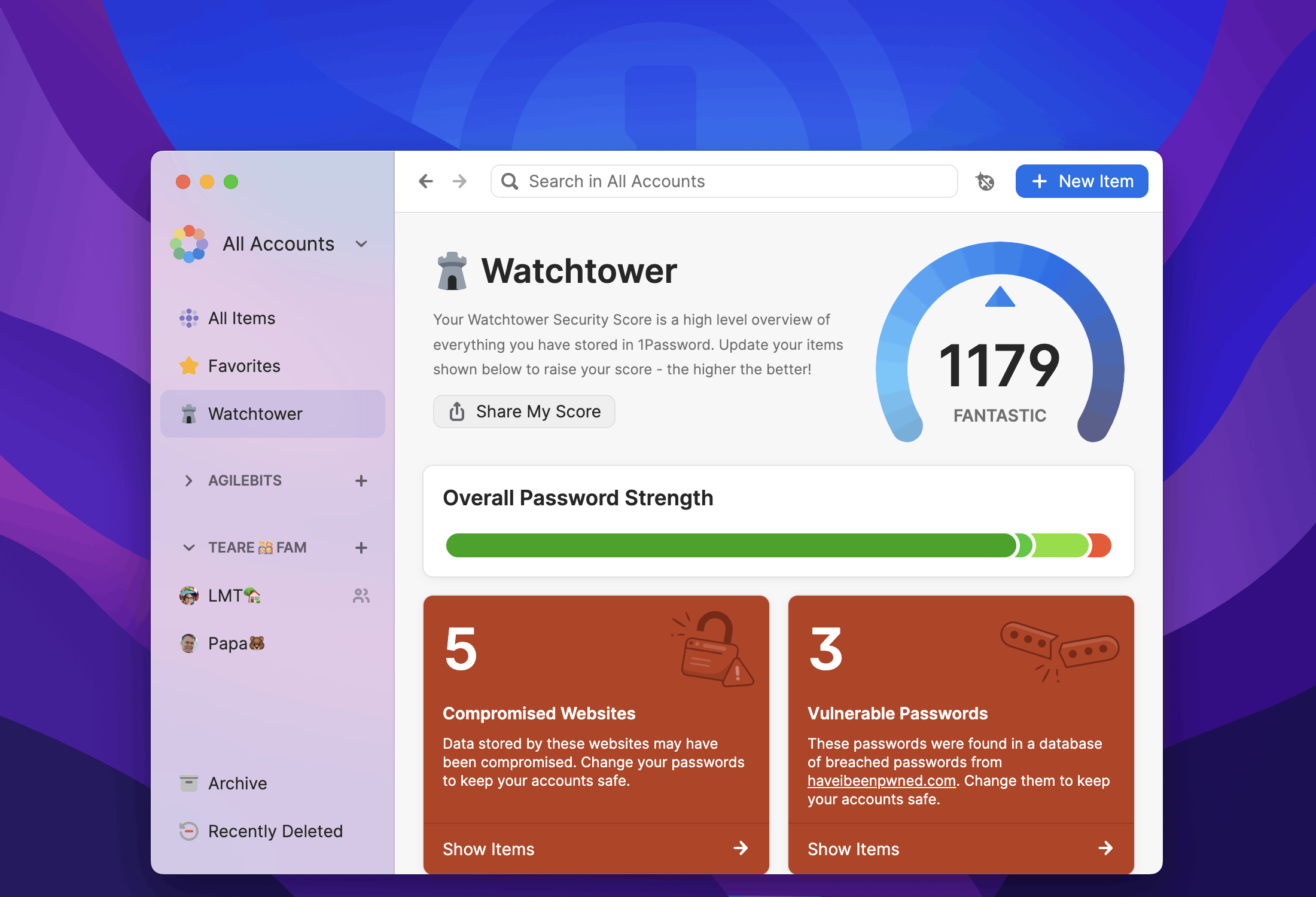 Watchtower uses on-device analysis to calculate password strength and detect vulnerable passwords, giving you actionable and personalized advice while preserving your privacy.
All of your information is protected behind the best security design we've ever had. And when it's time to unlock, use Touch ID or Apple Watch for a terrific passwordless experience.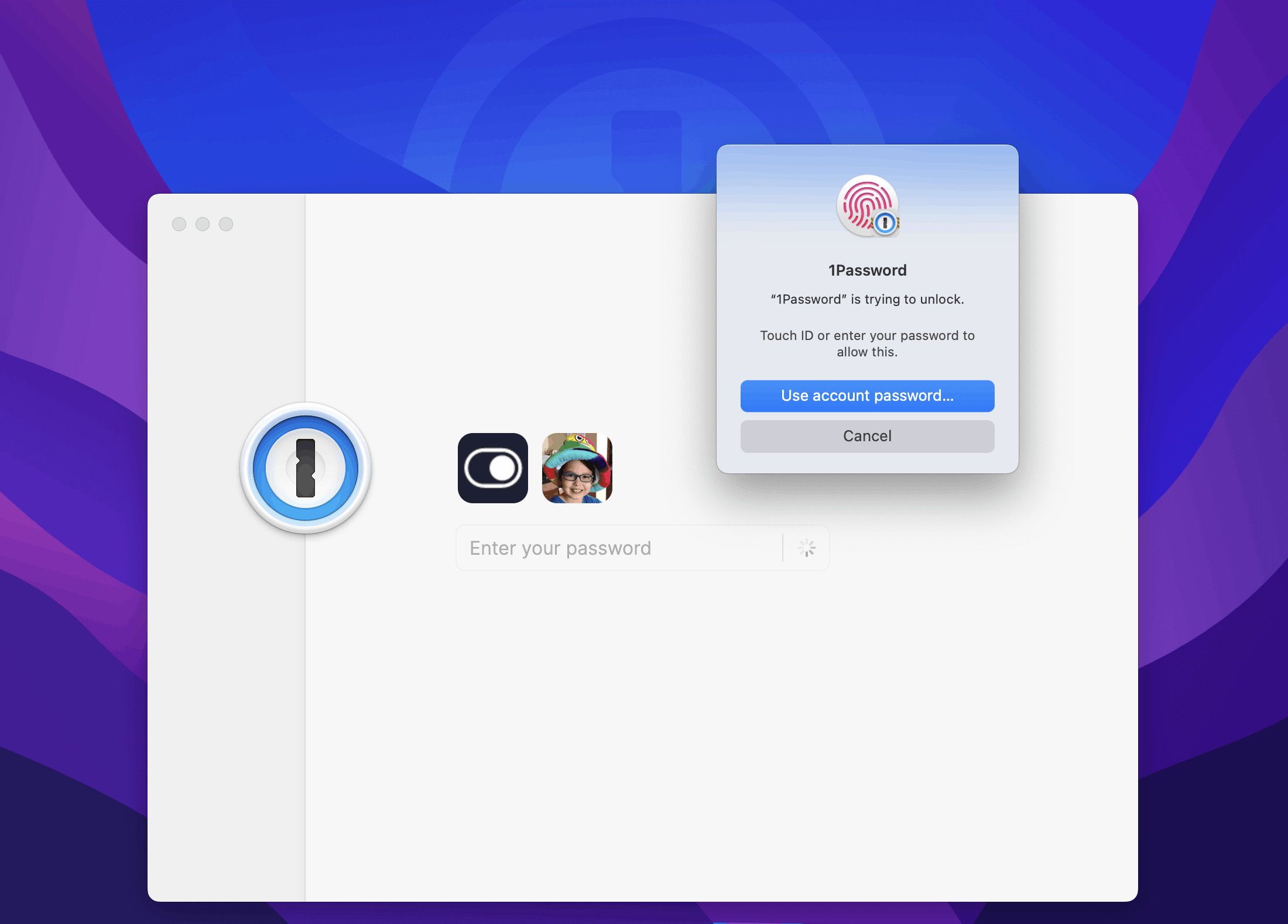 Oh, and one more thing…
Nearly two decades ago we set out to create the most complete and deeply integrated password manager for Mac users. And today we're thrilled to announce a new feature that raises that bar: you can now fill anywhere on your Mac using ⌘\.
We call it Universal Autofill, and you have to see it to believe it.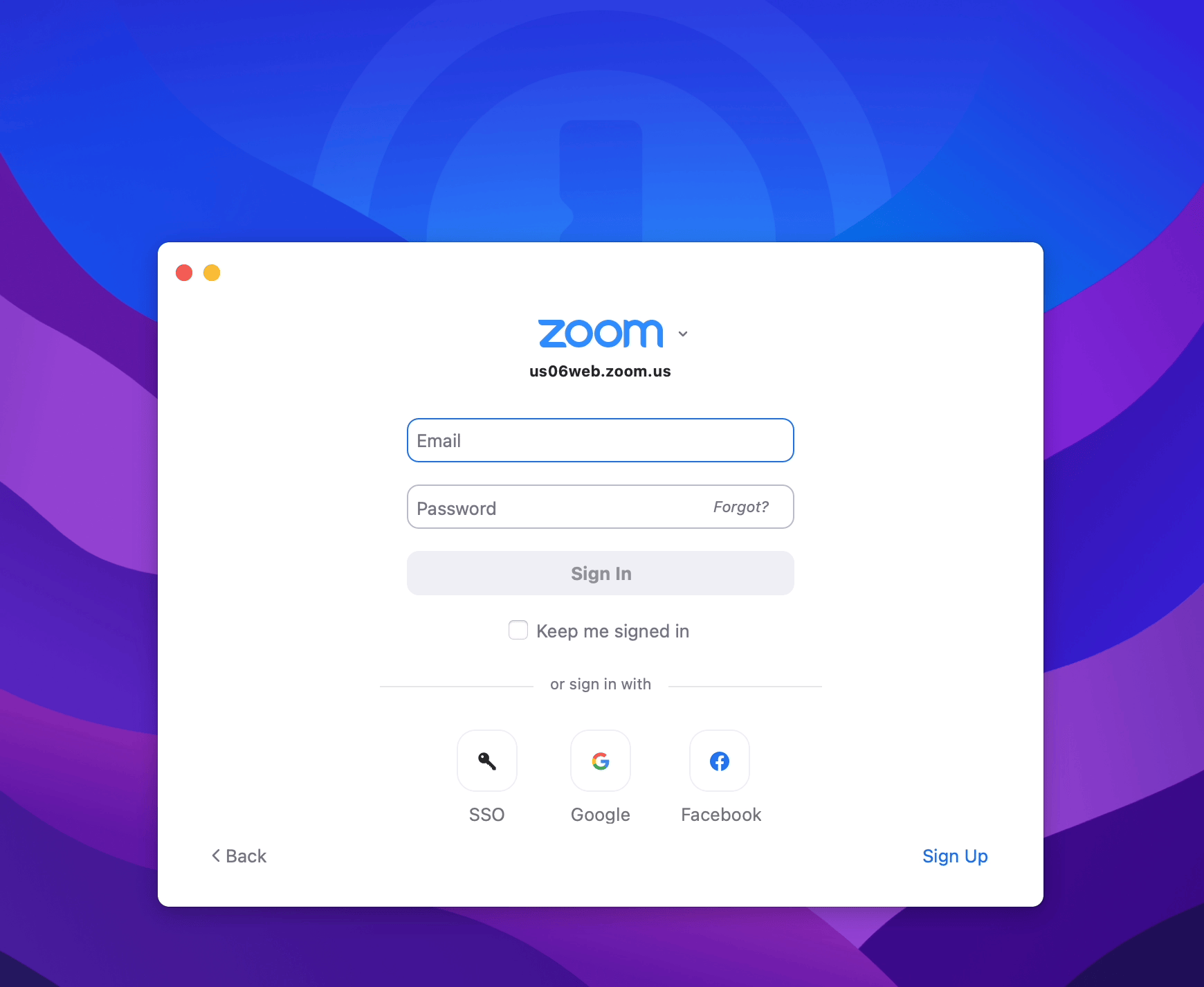 This is actually real! 1Password can now fill into Mac apps like Zoom, Spotify, and the App Store, and also other places like Terminal and system prompts. 🤯
We leverage the incredible accessibility frameworks provided by Apple to analyze the app structure. We then use the same brain that powers 1Password in your browser to accurately and securely fill fields and log you in.
Universal Autofill handles everything for you, including one-time 2FA codes. It even presses the Enter key for you.
All this is just a ⌘\ keystroke away.
Getting started
I can't wait for you to try it! Use our 1-click installer to get a release that's optimized for your Mac, whether it's Apple Silicon or Intel.
1Password 8 requires a 1Password membership. If you're already subscribed, just download the new app and it will automatically migrate your accounts over. For more information, see our upgrade guide.
We loved creating this new experience for you and we're excited to hear what you think. We have many ways to get in touch:
Twitter Space tonight at 8pm Eastern
AMA this Thursday at noon Eastern
@1Password on Twitter or me directly @dteare
Live demo on Wednesday, May 17th @ noon Eastern.
I also wanted to give a special shout out to our 40,000 beta family members who have helped review and test 1Password 8 over the last 9 months. This release is so much better as a direct result of you and your dedication. Thank you for helping us make 1Password the best it can be. ❤️
Enjoy the new release, take care, and stay safe out there. 🙏🏻
---