You can now securely share items with people outside of your family or company accounts. 🎉 In fact, you can securely share your items with anyone, even those who aren't using 1Password yet. 🔐
It's as easy as copy-and-paste but way more secure than placing private information in chats or email. Just select Share… from the item details overflow menu.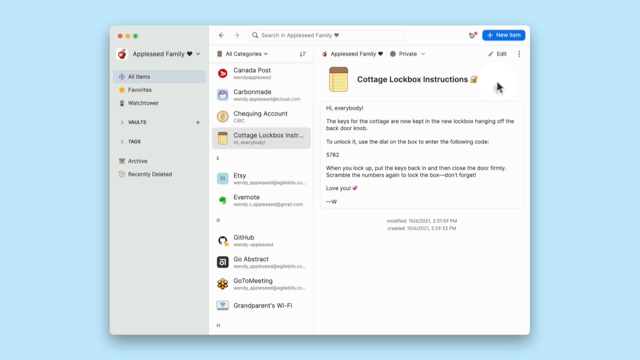 You can choose when the link will expire and have the option to limit the share to specific email addresses. Once created you can share the link using Signal, iMessage, SMS, Slack, or otherwise.
Once your friend, colleague, or family member opens the link they can view the item directly in their browser. 😍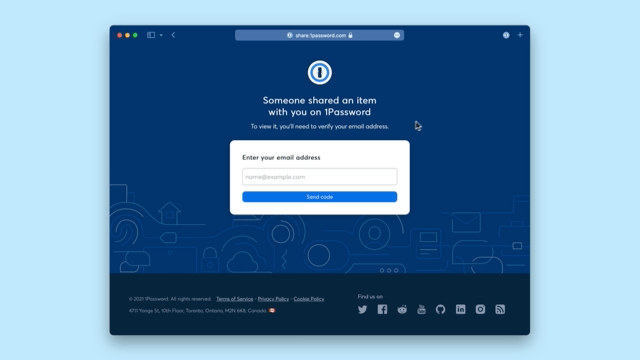 The really cool part of this is the link itself contains the share secret so only you and those you share the link with will be able to view the item.
Here's the full list of changes in this release:
It is now possible to edit account details on the sign-in view to update it after receiving an authentication error such as an outdated secret key.
An empty item list view has been added for when there are no deleted items in the Recently Deleted Items view.
We've overhauled our context menu code to process all copy actions through a unified clipboard implementation.
Item list now informs about how long you can recover deleted items at the bottom of the item list for the Recently Deleted items.
Added a focus ring to make it clear when the Cancel Search button has focus.
Changed "More" to "More Actions" in the Quick Access hint bar.
Updated the button style for the buttons within the text field such as the reveal password button in the account password field.
Improved the accessibility support to our user menu dropdown.
Fixed the issue where the multi-factor authentication code field would not appear for international users.
Added an animation effect for when using the keyboard shortcuts to trigger an action in Quick Access view.
Quick Access's keyboard shortcuts guide will now be shown in its own window.
Fixed a rare issue where 1Password could not recover from a draft restoration issue upon unlocking.
Screen readers will now announce the name of the field that is highlighted
Rework Linux IPC to use authorization instead of keyrings