Add some more joy to your day by personalizing your items with your own icons. Your custom icons will appear throughout the app, Quick Access, as well as within your browser.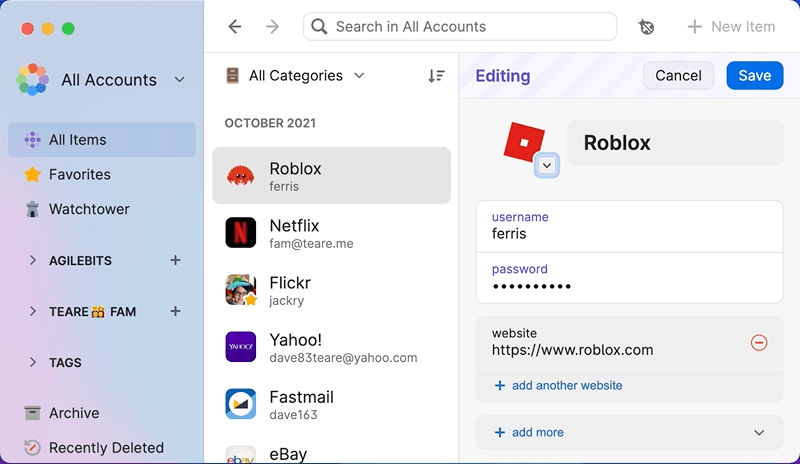 Quick Access has a new account menu so you can switch between accounts as well select from your custom vault collections.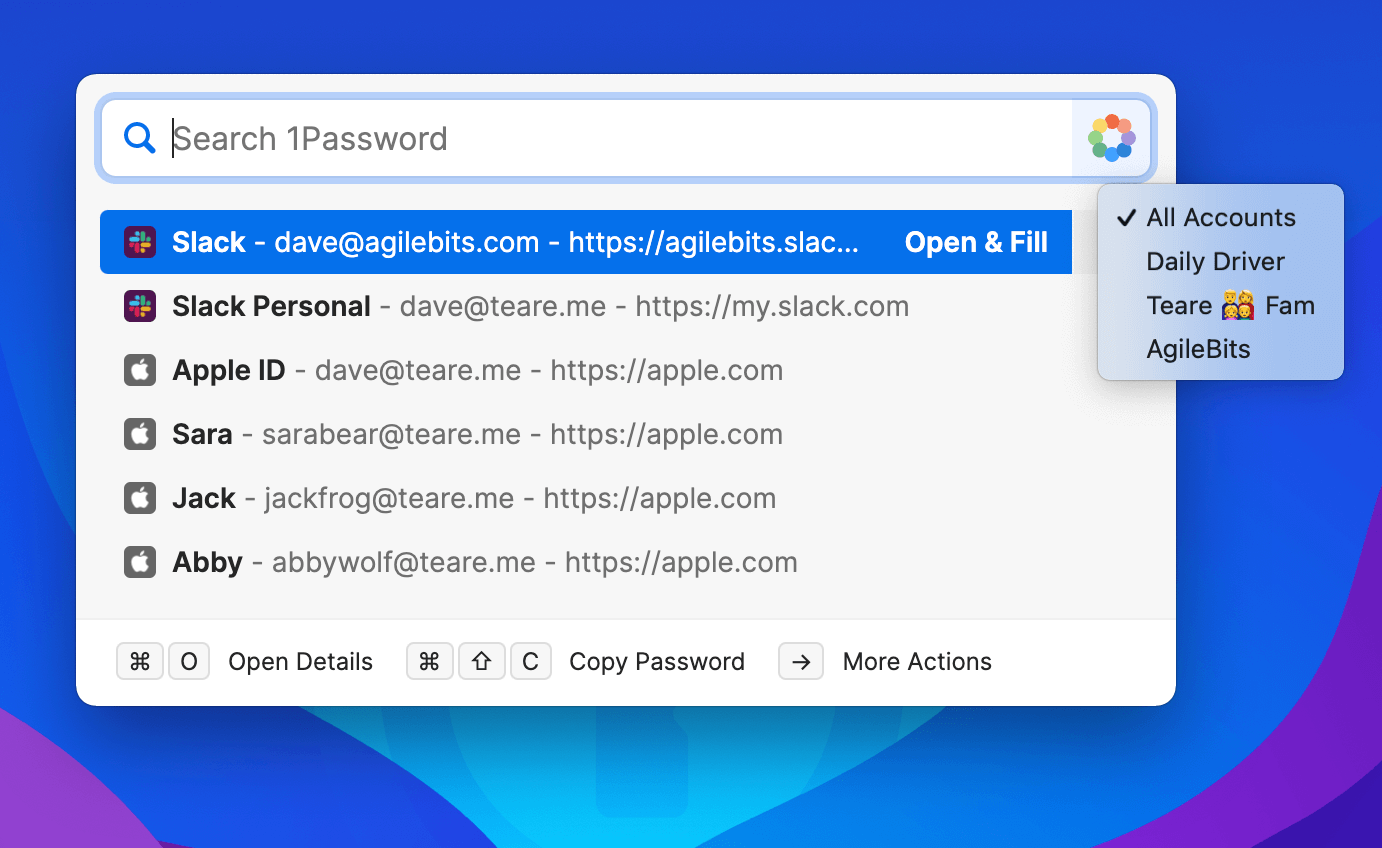 Freshly deleted items will appear in the Recently Deleted items list and can now be restored from the context menu.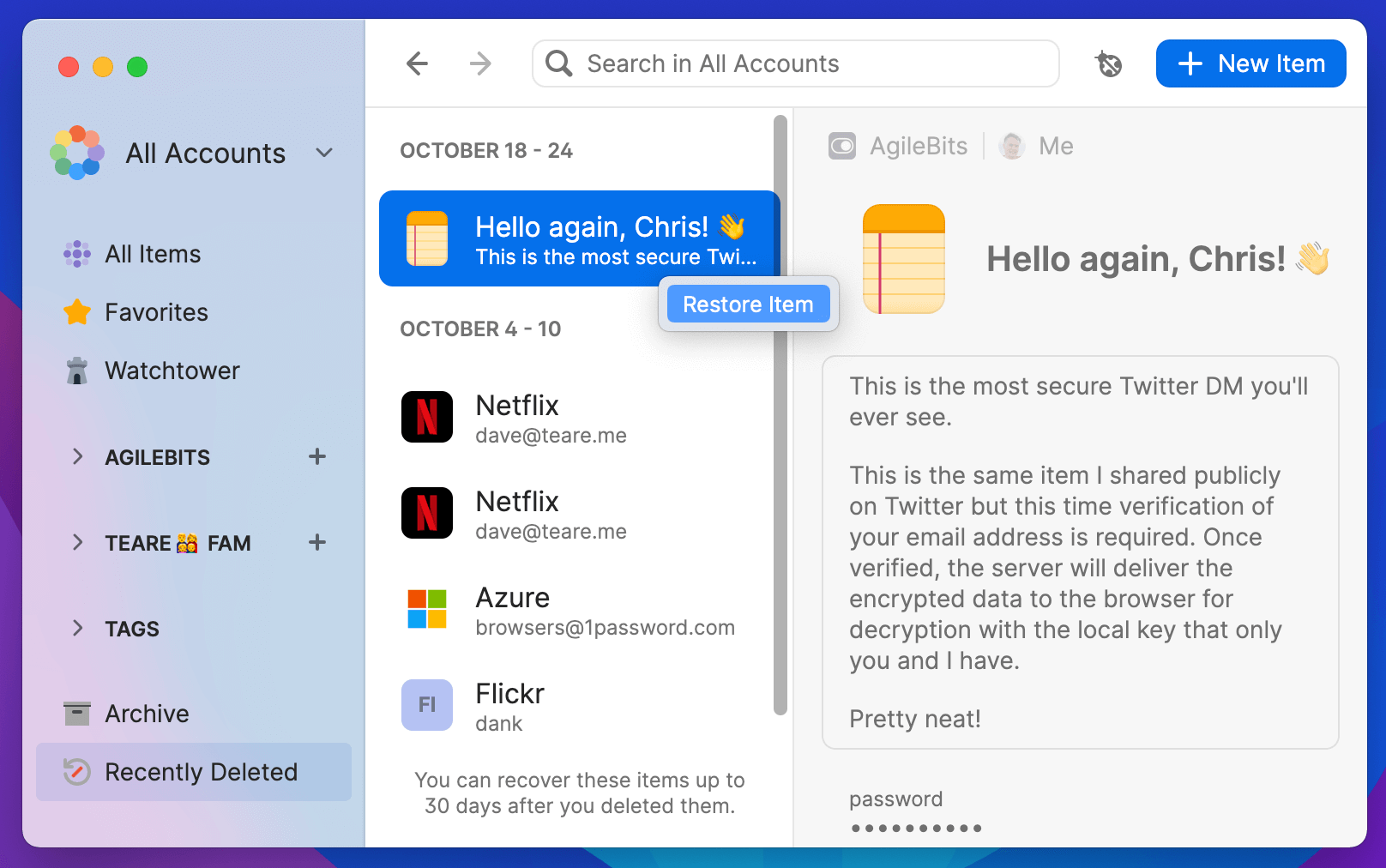 Here's the full list of changes in this release:
We've added support for custom icons when creating or editing items.
1Password can now prompt for biometric unlock in more conditions such as restoring from a minimized state.
We've added reveal and conceal actions to the Secret Key and Password fields.
We've added beautiful new icons for item categories.
It's now possible to switch between different accounts and collections when using Quick Access.
We've added an option to Preferences that controls whether or not item detail windows always appear on top of other windows.
The context menu for recently deleted items now includes the option to restore.
We have a beautiful new item catalog that you'll see the next time you create a new item in 1Password. We've included a list of the most popular logins, so it's even easier to save a new Login item in 1Password.
We've added support for the latest version of Duo's Universal Prompt.
It is now possible to edit account details on the sign-in view to update it after receiving an authentication error such as an outdated secret key.
We've overhauled our context menu code to process all copy actions through a unified clipboard implementation.
Item list now informs about how long you can recover deleted items at the bottom of the item list for the Recently Deleted items.
Added a focus ring to make it clear when the Cancel Search button has focus.
Updated the button style for the buttons within the text field such as the reveal password button in the account password field.
Improved the accessibility support to our user menu dropdown.
Added an animation effect for when using the keyboard shortcuts to trigger an action in Quick Access view.
We've improved the accessibility of toggle buttons in the sidebar and markdown notes.
The combo box has been improved to make it more accessible.
Screen readers can now more clearly read buttons in the alert dialog.
We've added _ as a word boundary when searching.
Accounts in the user menu and main menu are now shown in the order they've been added.
We've improved the performance of combo boxes.
Default drop-down items will no longer appear when typing in a search scope.
The Quick Access window now automatically resizes based on the number of item results.
We've added support for multiple sizes of the colored icon for recently deleted items.
Accounts are now sorted by the date they were added to the app in the Set Up Another Device, Create Vault, and Manage Accounts views.
Search filters now work properly in all supported languages.
We've added a hidden attribute to separators in the user menu to improve the experience when using a screen reader.
The Undo button is now hidden when an item is moved to a vault with limited permissions.
The search indicator text is now properly truncated if the text is longer than the width of the search results column.
We've removed an unnecessary scroll bar from the About 1Password window when it's at full height.
We've fixed a design issue where there wasn't enough space between an account name and the lock icon.
We've added more padding to the account selection menu button in the window to set up another device.
We've updated the style of the title bar and toolbar when the app inactive.
When you delete an item, 1Password now includes a message that you can view and restore it from Recently Deleted in the sidebar.
After signing in to a 1Password account or choosing a different multi-factor authentication type, the input field on the two-factor authentication view will be focused.
Quick Access now shows the Copy Username shortcut for Login items instead of Open Details.
The Quick Access hint bar now correctly shows customized keyboard shortcuts.
The options to reveal or conceal an account's Secret Key and Password fields are now accessible to screen readers when signing in to a 1Password account.
When sharing an item, a message now shows if the item has any file attachments or linked items that won't be shared.
The sign-in screen has been redesigned for signing in to a single account.
Accessibility improvements have been made to our address and tag fields in the item details editor view.
When selecting a vault to move an item to, the space bar or Return key can be used to perform the move.
We've updated the localizations for all supported languages. We also removed the Korean and Japanese translations while we work to improve them.
The spacing and shape of buttons has been updated to match design specifications.
The capitalization style and punctuation is now consistent in Settings.
The Watchtower button font has been fixed to match design specifications.
Keyboard scrolling is now supported for item details in secondary windows.
We disabled spellcheck in Quick Access.
The width of the Overall Password Strength box has been adjusted so it's always at the top of the Watchtower report.
We've adjusted the wording around who has access to an item, so it's consistent across the app.
Quick Access will now bring the main window to the forefront when using "Open in 1Password"
We properly aligned the "Locked accounts" text in the create item view.
The password generator will now hide after generating a new password and security answers are no longer generated automatically when choosing a new question.
Screen readers will now announce the name of the field that is highlighted
Quick Access's keyboard shortcuts guide will now be shown in its own window.
Fixed a rare issue where 1Password could not recover from a draft restoration issue upon unlocking.
Rework Linux IPC to use authorization instead of keyrings
The Hong Kong region now localizes to Traditional Chinese by default and Chinese is now correctly recognized as the default system language.
We've resolved an issue where rich icons would sometimes fail to appear.
Item usage is now recorded when downloading a Document item that has been downloaded before.
We've fixed an issue with the Weak Passwords list in Watchtower where a different password strength calculation was used from the one used in the item details. If you've been keeping track of your scores in your Watchtower report, this change may significantly alter those scores, but they'll now be more consistent with your item details.
Multiple custom templates with same name will no longer show account names if only one is visible due to others being marked as hidden.
We've fixed an issue where a selected item wouldn't be removed from view when changing the category.
The scroll bar in the Vault Collections window no longer covers up content.
We've fixed a window height issue that caused the password generator to be partially concealed when editing an item.
We've adjusted the width of address fields so text won't be cut off.
The new item modal can once again be closed by pressing the Escape key.
We fixed an issue causing some emojis to display incorrectly.
The Category filter now shows hidden templates as Others.